HOME > ENGLISH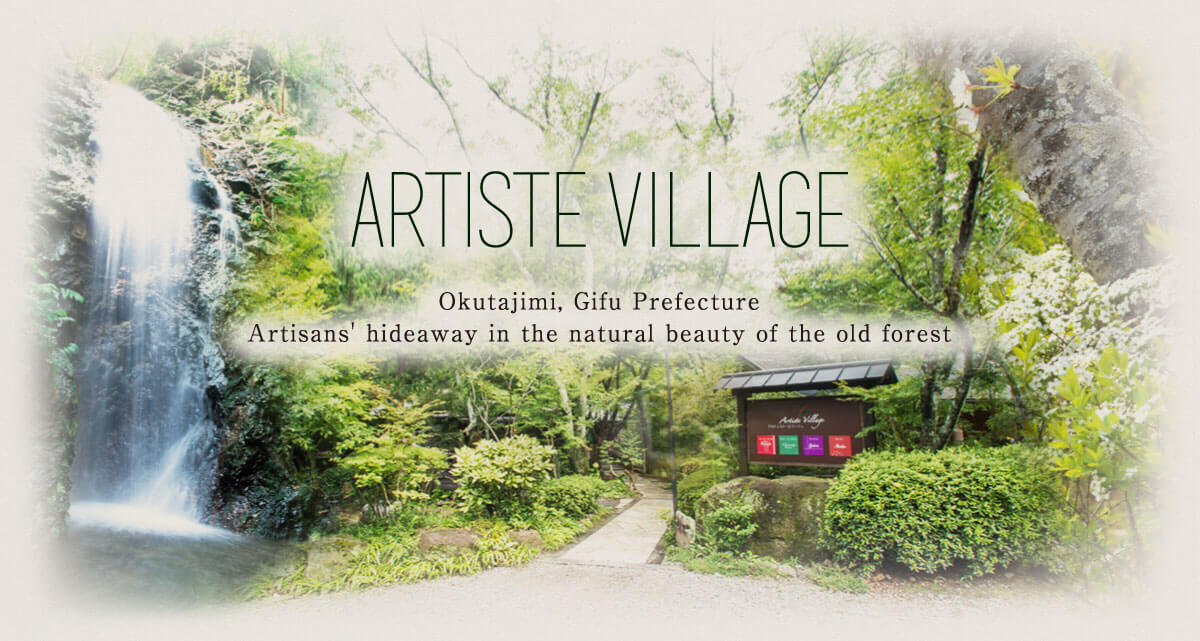 Artiste Village is a combination
restaurant ・ cafe ・ bakery ・ esthetic salon ・ gallery ・ studio.
A place in the forest where various world views come together to create a new type of experience...
Taking advantage of the architecture of an old traditional Japanese restaurant, a place where art,
delicious food and craftsmanship was born.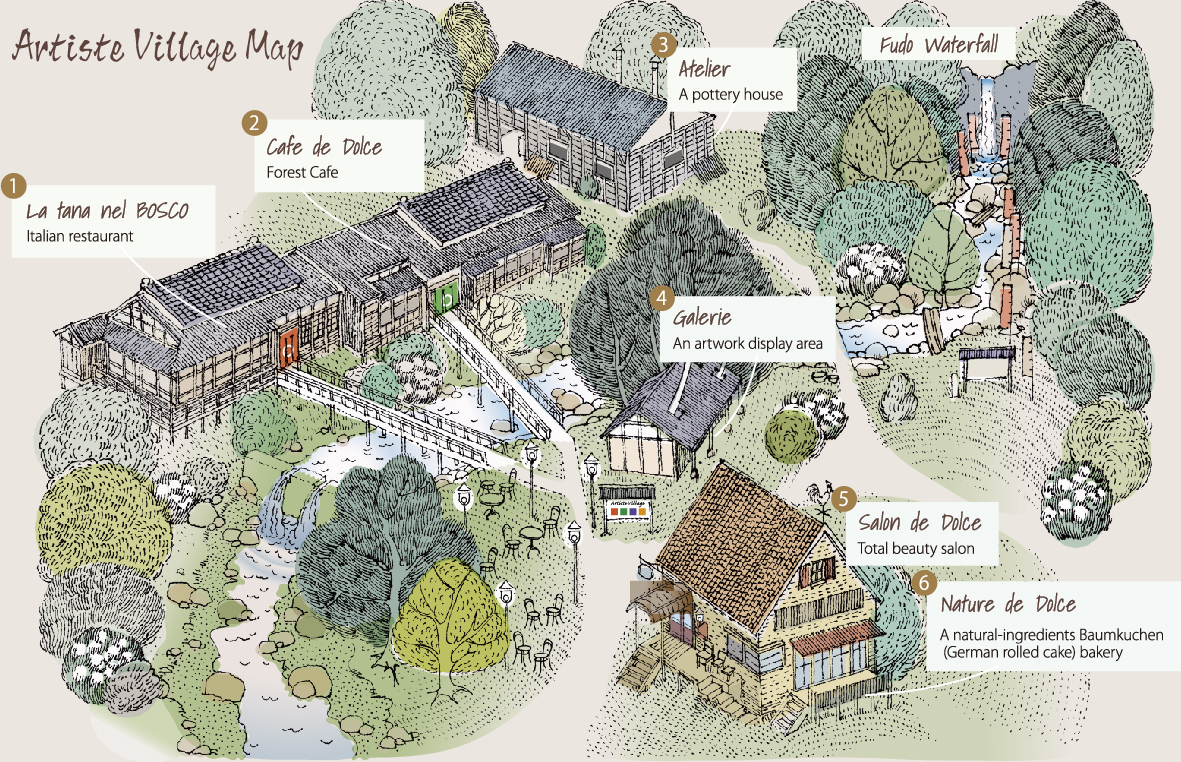 TEL : 0572-26-7352
In a place where a nice old Japanese flavour remains, one can enjoy healthy French cuisine made with seasonal ingredients. Being a restaurant in the forest, the views are beautiful, and one can expect an all-too-rare healing time.
Lunch / 11:30〜14:30(12:30 Last)
Dinner / 17:30〜21:00(19:30 Last) By appointment only.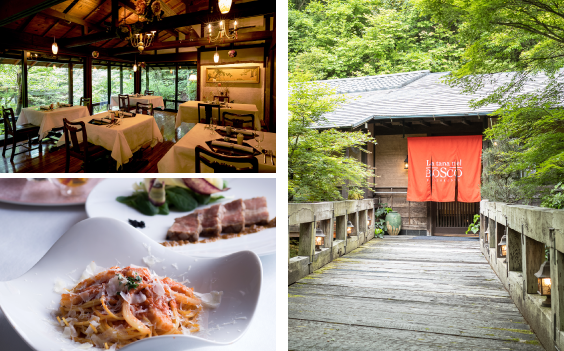 TEL : 0572-26-8218
A special breakfast surrounded by nature.
A tasty lunch to suit the season.
From an authentic afternoon tea with a three-tiered cake display to a simple bite to eat, tea time with English tea or our specialty coffee can be enjoyed.
8:30〜18:00
Morning / 8:30〜10:00(L.O.)
Lunch / 11:00〜14:00(13:30L.O.)
Dinner / 14:00〜18:00(17:00L.O.)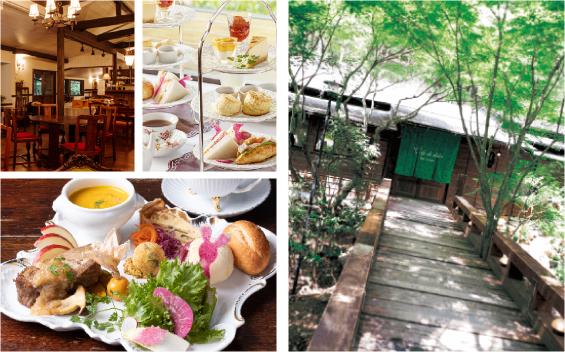 Having three resident pottery artisans, visitors can see pottery displays not commonly seen.
With a number of artworks on display, guests can enjoy viewing or shopping.
Restaurants and shopkeepers offer customized orders, so please feel free to make inquiries.
Open / 10:00〜16:00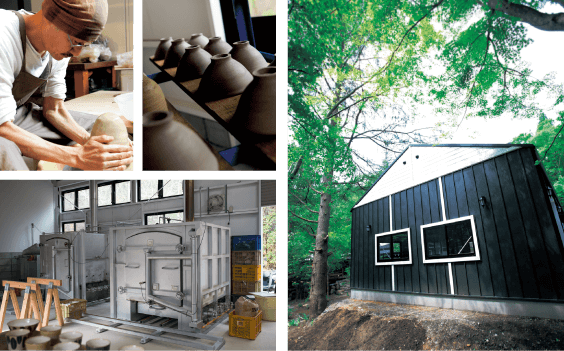 TEL : 0572-26-8358
For works on display and for sale in the gallery, artists will change every two weeks. Please feel with your hands the warmth and personality of the handmade works. In the gallery building itself, the large trees used in the construction of the eaves can be seen.
Open / 10:00〜17:00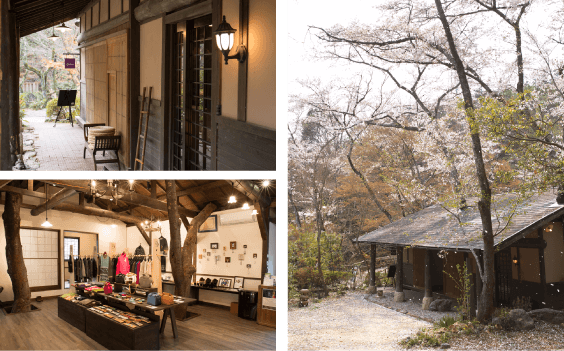 TEL : 0572-44-8853
The beauty salon, for the physical care of guests. We use the extremely popular "Hyper Knife" to warm and relax, and promote a beautiful body from the core. All rooms are private, single rooms, with treatments done on granite beds providing a sublime experience. By appointment only.
Open / 9:00〜17:00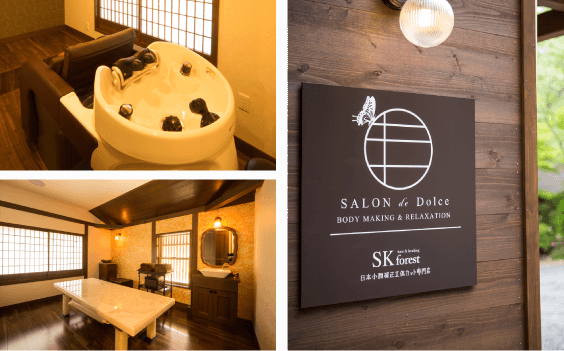 TEL : 0572-44-8582
Particular about ingredients, no additives are used, relying instead on the flavour and power of natural ingredients used in the making of our famous Baumkuchen (German rolled cake). Japanese "macha" flavour and seasonal varieties can also be enjoyed. Please try our Baumkuchen cup desserts decorated with whipped cream and fruit with a nice cup of coffee.
Open / 9:00〜18:00